Masroor Centre for Healthcare
In the last two years, at the hospital site in Yopougon-Gesco, we have been able to complete the perimeter wall, prepare the foundations, build the hospital walls, put up the roof and lay the roof concrete and work on some of the out-buildings.
We are now doing the internal fit-out and planning to procure and install the medical and non-medical equipment and furniture. When completed, the hospital will feature an Emergency Department, ICU, 3 Maternity Suites, X-Ray and Ultrasound imaging, laboratory, pharmacy, 2 Operating Theatres and an Endoscopy Unit.
We need your help to raise over $1 Million in 2023 to complete the hospital in the next 12 months. Please donate today.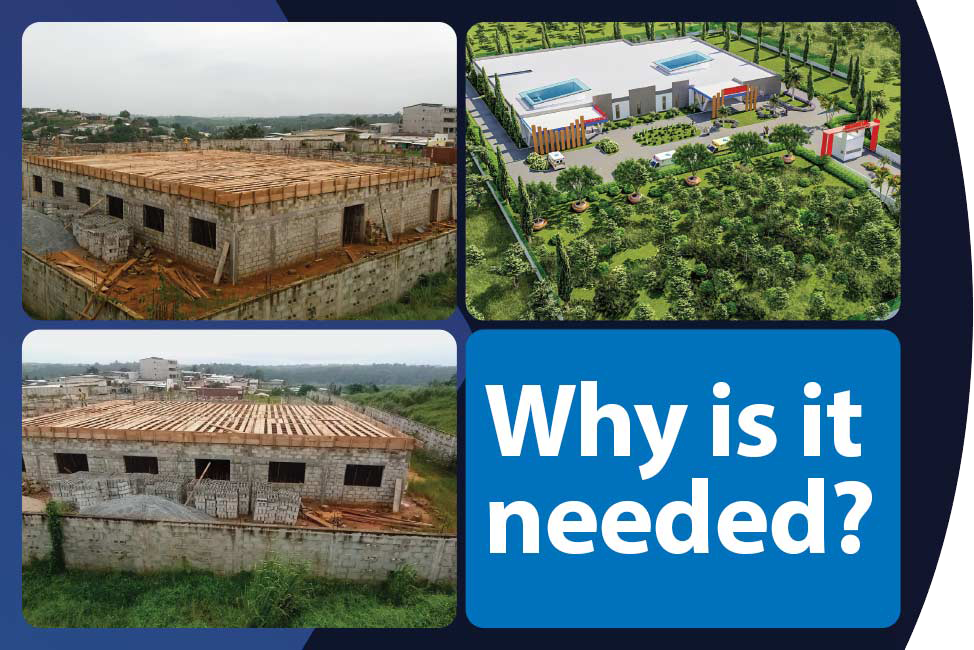 Ivory Coast is one of the fastest developing countries in West Africa, yet even here, there is a shortage of trained medical staff. Developments in recent years have improved outcomes and life expectancy, but still, there is a disparity between access to decent care depending on social status.
Expectant mothers are at higher risk as well as young children. There are also areas such as Abobo with a large population of low-skilled and low-income people who cannot access good quality care easily.
It is for this reason that Humanity First has decided to build a hospital in Yopougon, not far from the capital Abidjan and also Abobo. The concept is to offer good quality care to attract private patients, and then subsidise care for low-income patients.
Ground works started in late 2018 for the Ivory Coast Hospital and the levelling work and perimeter wall should be completed by the end of 2019. The main construction effort is planned for the middle of 2020, and so we need funds to build the facility and to purchase the equipment and furniture.
There are opportunities for families to donate a brick in our donor wall, and for businesses or family groups to also co-brand specific rooms and facilities within the hospital.
Our longer-term plan is for the hospital to become a teaching hospital, and to leave a lasting legacy of more trained clinicians to serve in Ivory Coast.
Testimonials
The people who work here, the nurses, the doctors, all have been very good people to me; excellent work and treatment; and as of today, everything has been going very well.
We appreciate the care provided to our son during his stay in the hospital due to COVID, we know that this hospital is a great help not only for the residents of Sacatepequez, but for the entire country.
We are happy for the attention received on the arrival of our daughter Leila Sofía, we will continue visiting the hospital because we trust the services.
I am happy with the care they give me at the hospital, I have been admitted three times already and I come to my consultations regularly. I am grateful to all the staff.